Pathologist opening in Taiwan
Please click here to see the details on the recruitment from a major academic institute in Taiwan
Joint IACP-TSP Symposium, May 20-21, 2017, Taipei

To celebrate the 50th anniversary of Taiwan Society of Pathology (TSP), International Association OF Chinese Pathologists (IACP) will co-sponsor a two-day symposium with TSP on May 20-21, 2017.
"Then, Now, and Future of Pathology- From Naked Eyes to Precision Medicine"
Location: National Taiwan University Hospital International Convention Center .
IACP 2017 Annual Meeting & Dinner
The 2017 IACP Annual Meeting and diner had successfully concluded in Fogo de Chao Steakhouse in San Antonio on March 5, 2017. There were 37 members including 7 trainees present. The executive committee meeting was conducted by Howard Wu at noon. Our annual meeting and dinner occurred at the evening. During the meeting IACP President, Howard Wu, presented a plaque to the winner of 2017 IACP Outstanding Chinese Pathologist Award, Professor Tzyy-Choou Wu. The members of IACP had re-elected Dr. Kar-Ming Fung as Executive Vice President for another 6-year term (2017-2023) and elected two new officers Dr. Eric Huang (Treasurer 2018-2019) and Dr. Xiaoqi Lin (Treasurer 2019-2020).
It was a fun night and everybody enjoyed the food, wine, and friendship.
The Award ceremony also concluded in Grand Hyatt Republic B on March 6, 2017. IACP Secretary Jeff Chang announced the winners of IACP Best Abstract Award and IACP Best Abstract Award for Young Pathologists from Taiwan. The winners were presented with a certificate and scholarship.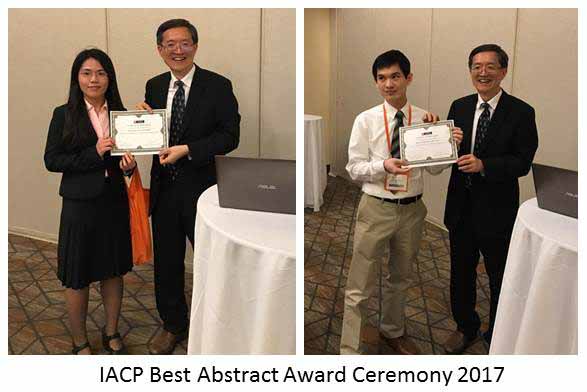 The newly elected officers are as follows (Effective July 1st 2017):
Officers 2017July to 2018 June
President: Yan Peng, M.D., Ph.D. (yan.peng@utsouthwestern.edu)
President-Elect: Jeff Chang, M.D. (C.Jeff.Chang.MD@Flhosp.org)
Executive Vice President: Kar-Ming Fung, M.D., Ph.D. (karming-fung@ouhsc.edu)
Secretary: Chia-Sui (Sunny) Kao, M.D. (ckao2@stanford.edu)
Treasurer: Xiuli Liu, M.D., Ph.D. (xiuliliu@ufl.edu)
Treasurer-Elect (2018-2019): Eric Huang, M.D. (ecchuang@ucdavis.edu)
Treasure-Elect (2019-2020): Xiaoqi Lin, M.D. (xlin@northwestern.edu)
Treasurer-Elect (2020-2021): Jen-Fan Hang, M.D. (combofkafka@gmail.com)
Congratulations to Professor Tzyy-Choou Wu
Congratulations to Professor
Tzyy-Choou (
TC) Wu who was elected
as an Academician of the Academia Sinica
during the 32nd Convocation of Academicians, Academia Sinica on July 7th, 2017.
This is considered the highest honor in academia in Taiwan. Professor TC Wu was one of 20 new Academicians and 2 Honorary Academician that were elected.
TC has been a long time member of IACP and was past President in 2001-2003. TC is Professor of Pathology, Oncology, Obstetrics and Gynecology, and Molecular Microbiology and Immunology, The Johns Hopkins University School of Medicine, Bloomberg School of Public Health Research and Director of Gynecologic Pathology Pathologist, The Johns Hopkins Hospital. Professor TC Wu is a renowned international expert and researcher in HPV related cervical cancer. He is Director of The Cervical Cancer Research Lab and his research projects including the development of DNA and RNA HPV vaccine, et cetera. (http://pathology.jhu.edu/tclab/members.cfm
)
The International Association of Chinese Pathologists (國際華人病理學會) is a professional association for pathologists. Our membership includes pathologists from different disciplines and fields, both in clinical and research arena. IACP provides its members with professional support and opportunities, allowing them to keep abreast of innovations in pathology and laboratory medicine.
Our annual meeting is typically held as a side meeting in conjunction with the annual meeting of the United States and Canadian Academy of Pathology (USCAP).
Our services and benefits are designed to enhance your professional growth and keep you up-to-date on upcoming trends and leading-edge developments. Through our web site, members can know about society meetings, post and search jobs, and assess our directory. Best of all, our membership covers all subspecialties in pathology and presents an opportunity to interact, collaborate and exchange ideas. Members have opportunities to share their knowledge with others and to learn from them as well. IACP offers its members awards, recognition, networking, and much more. We hope you have an exciting experience as a member, taking an active role in structuring the future of the profession!
Membership dues and generous donations have enabled our society to continue growing every year. Our activities include a yearly meeting and the organization of workshops. Scholarships and awards are also offered to pathologists beginning their careers. We provide useful support for those interested in exchanging clinical study materials and to those willing to serve as consultants or share their knowledge.
Click here for new membership application. Click here for membership due form.